Meet the Editors Series : Olivier Germain
Seminars Business Group : The De Vinci Research Center Business Group combines the expertise from research professors in innovation, marketing, human resources, and entrepreneurial strategy. Key areas of research include improving technological learning models, understanding the impact of digital strategies on business ecosystems, and improving B to B customer relationships.
Invited guest: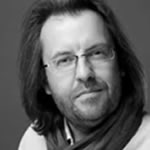 Olivier Germain (PhD Université de Caen Basse-Normandie) is Professor of Management and Entrepreneurship at the School of Management of the Université du Québec in Montréal where he runs the PhD program in administration.
He serves as Associate Editor for M@n@gement (CNRS 2) and Revue de l'Entrepreneuriat (FNEGE 2).
Seminar Topic
As part of the 'Meet the Editors' series, Dr. Germain will give us some hints on 'The ranked journals we may ignore'.
Registration