Devinci Startup Day
You want to create your startup but you don't know where to start? You want to start but you don't have the idea yet? Are you hesitating between gaining experience in a company or starting your own business right after graduation?
Some of them didn't wait until they graduated before starting the adventure, and we give them the opportunity to speak on March 10th during the Devinci Startup Night organized at the Pôle Léonard de Vinci.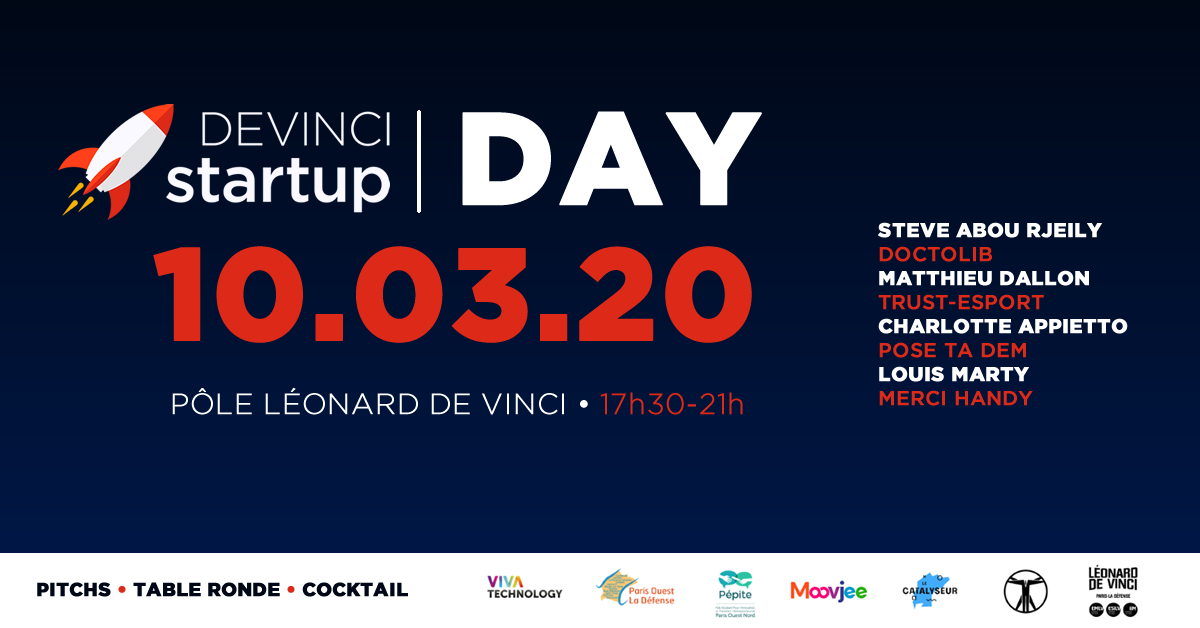 Schedule
5:30 pm | Reception
18h – 19h : Round table : from student to successful entrepreneur how to create the job of your dreams ?
Steve Abou Rjeily, co-founder of Doctolib'.
Charlotte Appietto, founder of Posetadem.com
Matthieu Dallon, co-founder of Toornament.com & investor at Trust-Esport
Louis Marty, co-founder MErci Handy
19h – 20h | Pitch contest of the student entrepreneurs of the Leonardo da Vinci Cluster
Following this, 12 startups of students from our 3 schools will unveil their pitch in 1min top time.
Our jury, made up of entrepreneurs, experts and major players on the entrepreneurial scene will challenge them and elect the project for the Innovation Prize. It's up to you to vote for the "Coup de Coeur" project!
8pm – 9pm | Cocktail party
Finally, you will meet all our participants around a cocktail, where you will have the opportunity to exchange and discover the startups carried by our students and alumni entrepreneurs. This is an incredible opportunity to join a project, challenge a team or find a startup internship.
It's also simply a chance to learn from the feedback and advice of those who undertake and perhaps create the trigger that will lead you to join them in the entrepreneurial adventure made in Pôle Léonard de Vinci.
This event is open to the public upon prior compulsory registration so that we can adjust the quantities of the cocktail.
Lieu : Pôle Léonard de Vinci, amphi H